Distillation Equipment
The Essential Oil Company is a distributor of hand hammered copper Alembic distillation equipment manufactured by Artisans in Portugal. We also represent several US based fabricators for both copper and stainless steel distillation apparatus.
From miniature desktop distillers to large-scale stainless steel steam distillation equipment, we provide distillation equipment for the hobbyist and professional alike.
Our Most Popular Stills
Flat Rate Shipping within the US on our Top-Selling Stills
These beautiful, hand-hammered copper distillers are made in the traditional alembic form. They come complete with a removable column, which enables the distiller to increase the capacity of the plants being distilled while separating the plant material from the water. These distillers can be used for hydro or steam distillation.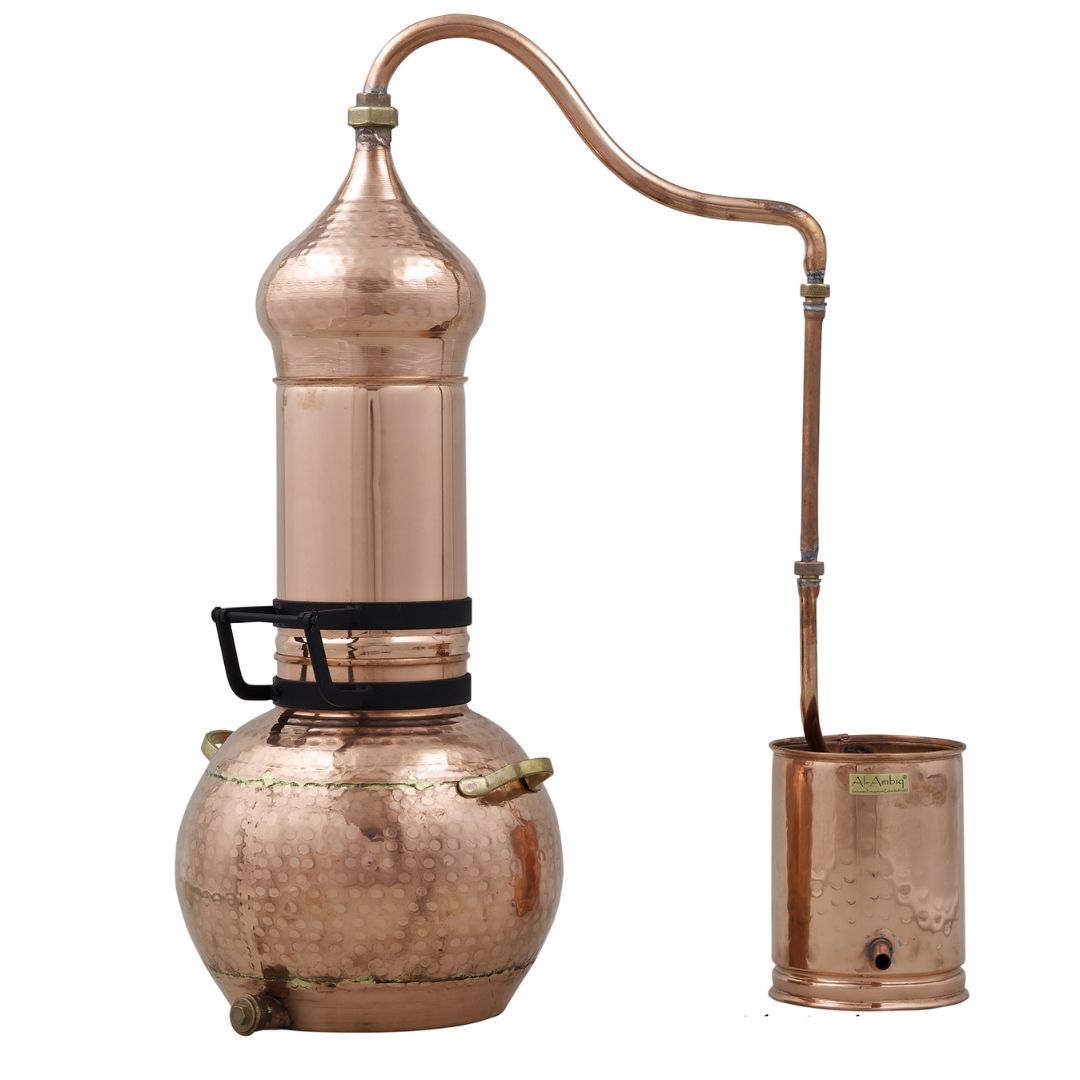 This is the perfect entry level distiller for people wishing to distill essential oils and hydrosols. This distiller comes complete with our new efficient glass Essencier, designed by our Founder and Master Distiller Robert Seidel. The glass Essencier is an essential item for separating essential oils and waters from the distillate.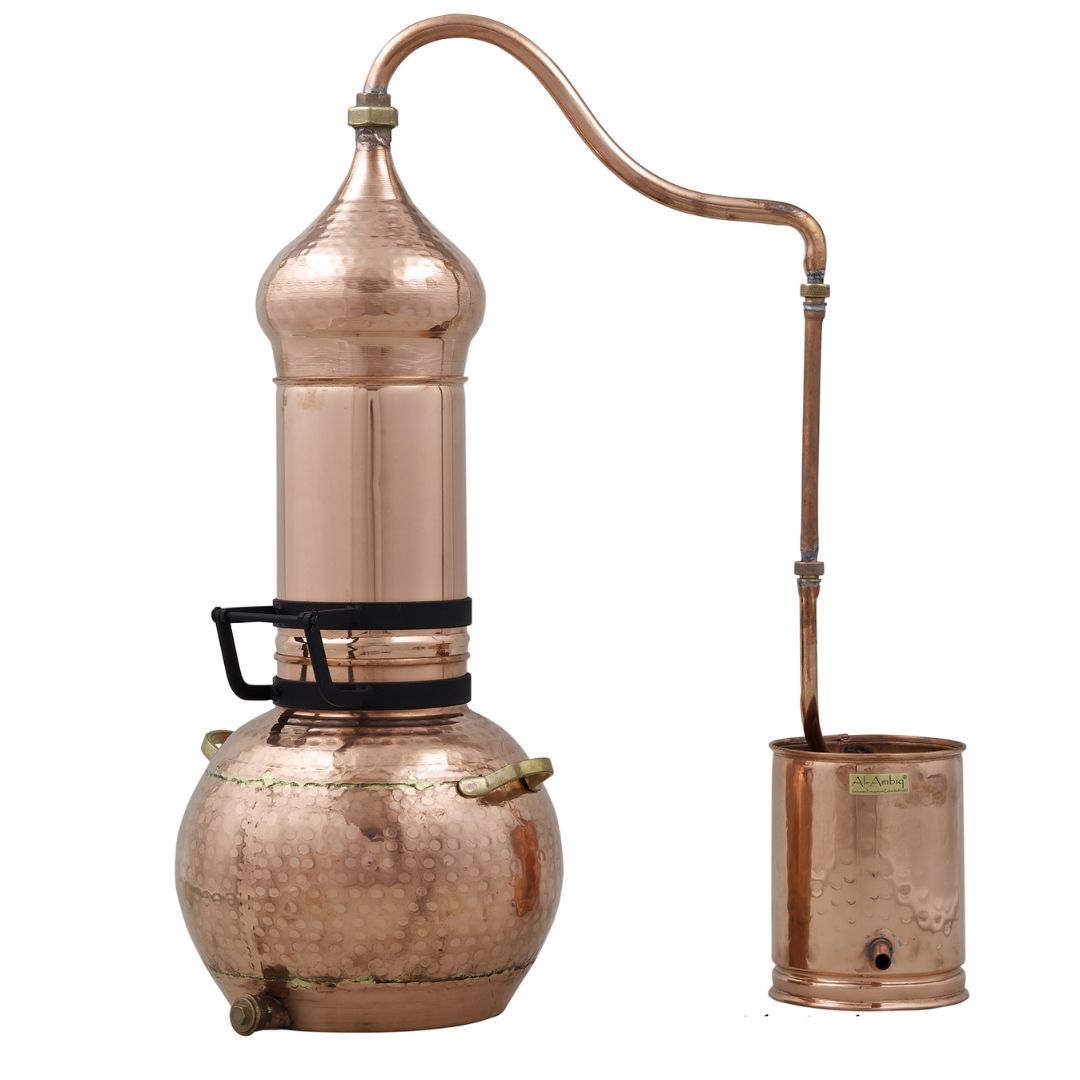 This versatile copper table top distiller operates using electricity or propane (outdoors) as a heat source. This locally made still is extremely simple to use, and with a little practice, the novice can become a distillation expert. It comes complete with our glass Essencier for separating essential oils and waters from the distillate.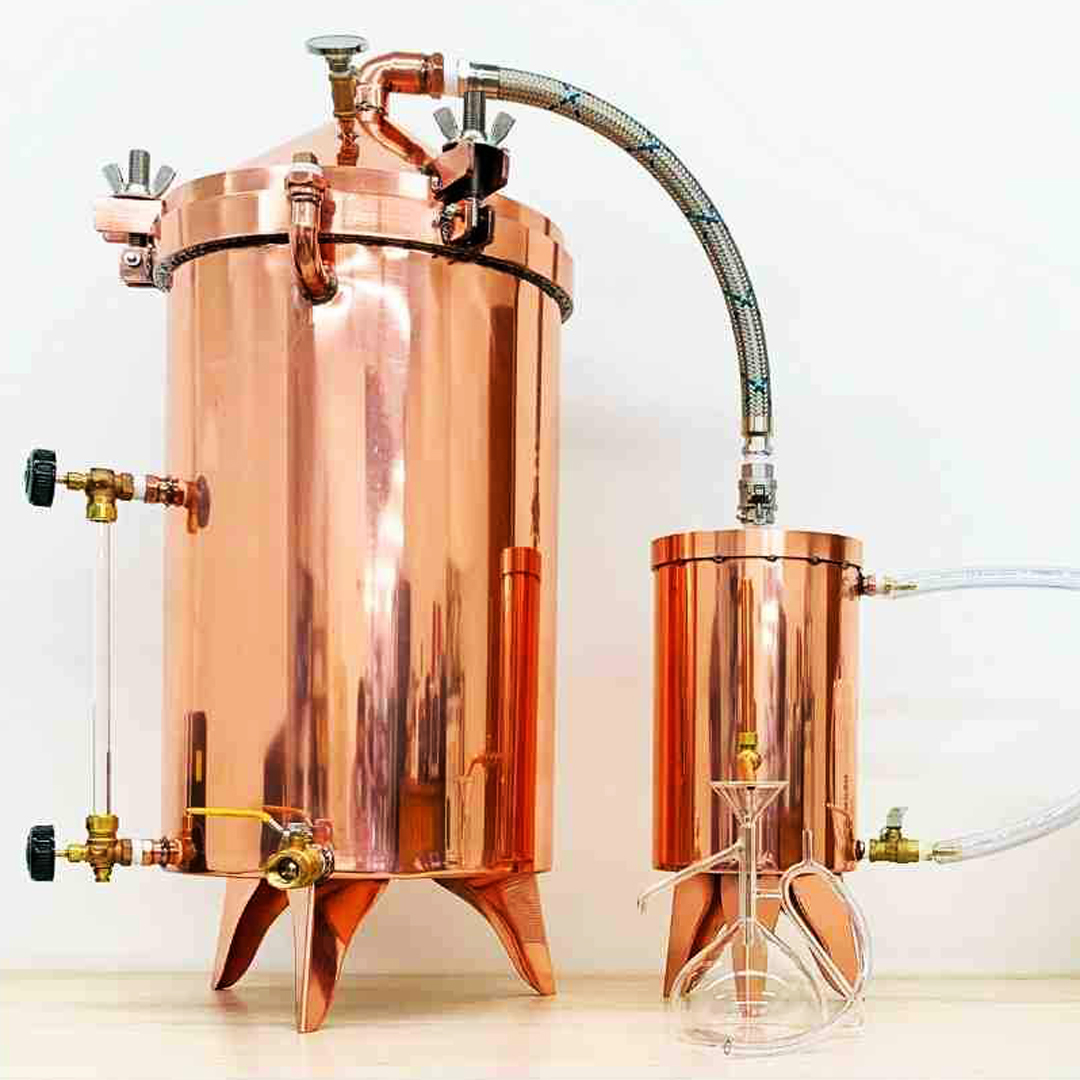 Distillation Types
Steam Distillation
Most essential oils are obtained through Steam Distillation. With this method the water is boiled in a pot, and the steam moves through the plant material that is suspended above the water pot, collecting the oil and is then ran through a condenser that turns the steam back into water. The end product is called distillate. Distillate consists of hydrosol and essential oil.
Hydro Distillation
Similar to steam distilling, Hydro Distillation is distilling the plant material in the water inside the pot. This method also uses a condenser to turn the steam that is carrying the essential oil back into water. This method would be used for more delicate plant materials such as rose pedals.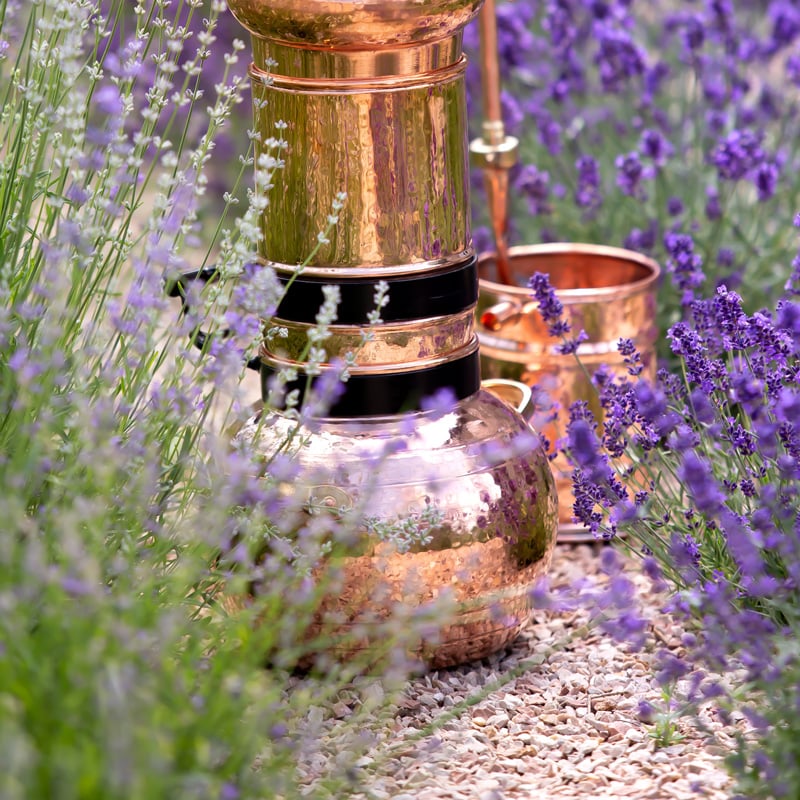 Shipping & Payment
Our distillation equipment is hand hammered and made to order.
Shipping costs are calculated by the size of equipment, distance in travel and carrier.
If not in ready stock, lead times for alembic stills are 4-6 weeks.
Commercial equipment lead time is 6-8 weeks or longer.
Payment can be made in full when placing your order by check (10 day hold), credit card, ACH deposit or wire transfer ($35 fee).

We do not except returns on used distillation equipment. Any returns for unused equipment will have a 20% restocking fee.



WE DO NOT OFFER REFUNDS ON USED DISTILLATION EQUIPMENT.
Distilling & Safety
All our alembics are manufactured in accordance with safety and security measures. The enticing art of distillation, however, may involve some risks which may be minimized by paying careful attention to the process and following basic distillation laws. The greatest risk is the danger of fire due to the proximity of flammable liquids to the heat source. Also, if there is an obstruction in the tubing of the alembic there may be some pressure build-up. Don't overlook all these factors.
Plant Material Yields
Want to get an estimate of yields for different types of plant materials? Check out our Percent Yield Guide For Essential Oil Distillation to learn more.